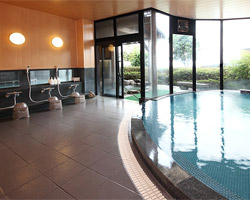 The naturally dug, clear, colorless sodium hydrogen carbonate spring gushes forth from right under the inn is plenteous in supply and has excellent ingredients and spring quality.
It makes your skin smooth and is effective for healing nerve pain, muscle aches, illnesses, and injuries.
Have a relaxing time gazing at the sea in front of you and the starry sky while listening to the sound of the wind and waves.